Webbnetz are a rather original invention made by me. They live on the Meganet, but there is an undiscovered way to get them out. In simpler terms, they are Atamon (Monsters With Attitude) stuck on something a lot like the internet. If you don't understand that, you must be PRETTY novice!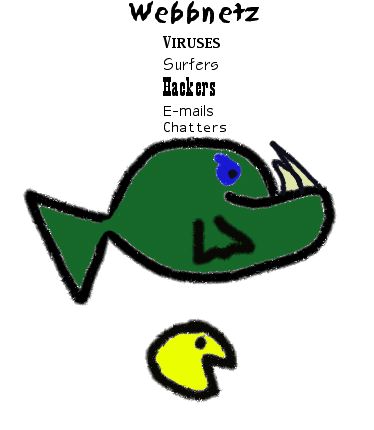 The two Webbnetz/Atamon seen on the picture above are Chomp (the fish with big teeth) and Paccy (the yellow pac-man). There are five major types of Webbnetz/Atamon. There are Viruses, Surfers, Hackers, E-mailers and Chatters. After that they are divided up into six more precise groups: Mammals, Amphibians, Reptiles, Birds, Fish and Robots.
Vampeeress, my personal favorite Atamon/Webbnetz. Vampeeress has naturally sparkley fur, but if it gets wet the sparkles wash out. Vampeeress would have a sleek, much longer tail if she didn't trip over it and get into trouble with my kitten so much. As Vampeeress mature their fur turns white gradually.